Welcome to Paoli Fire Company!
Paoli Fire Company's volunteer firefighters, emergency medical technicians, and fire police live, work, raise families, and enjoy the company of good friends in the same great town that you do. We are your neighbors. But when a fire, accident, or medical emergency strikes, this group of men and women drop everything to save their neighbors' lives and property.
Part of Paoli since 1909, Paoli Fire Company also provides fire prevention and safety information and demonstrations and participates in community events.
DONATE SUPPLIES TO HELP FIGHT AGAINST COVID-19
The leadership teams at Radnor Fire, Berwyn Fire, and Paoli Fire Companies have been in frequent communication during the COVID-19 pandemic. We are realizing that supplies are limited between all of us. We are working diligently with emergency management officials at the local and county level, but we also NEED HELP from our neighbors in the community.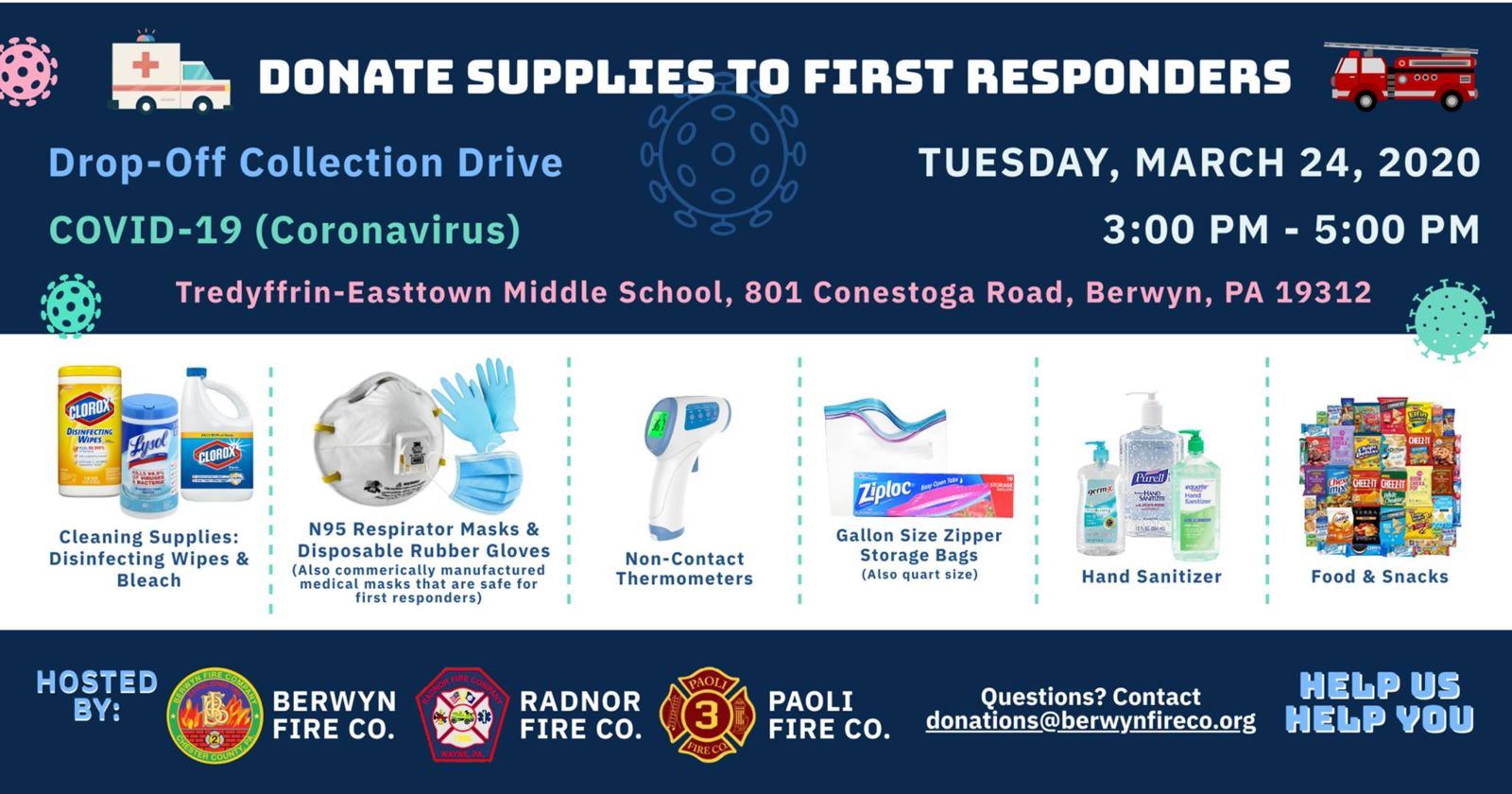 This coming Tuesday, March 24, from 3-5PM we are hosting a drop-off collection drive for supplies at Tredyffrin-Easttown Middle School. Donated items will help and support the volunteer personnel & career staff during their shifts at all local fire companies. Any surplus of donated supplies or food will be distributed to additional local first responders and law enforcement.
NOTICE: All food must be unopened or individually wrapped. For safety concerns, we cannot accept unsealed or homemade food or baked goods.
Acceptable Food & Snacks:
- Oatmeal packets
- Breakfast cereals
- Rice
- Pasta
- Rice-A-Roni
- Pasta-Roni
- Instant Potatoes
- Tea bags
- Dried Fruit
- Raisins
- Cookies
- Crackers
- Nuts
- Popcorn
- Chips
- Pretzels
In just two weeks time, our world has flipped upside down. The COVID-19 pandemic has been a difficult transition for all of us as we work to keep each other and our families safe, learn how to practice social distancing, and quarantine ourselves at home except for essential trips.
As our volunteer and career staff firefighters and paramedics work to protect you and your loved ones during these unprecedented times, we want you to know that our first responders are taking every precaution to protect themselves so that we may continue to assist anyone who may need help when calling 911.
We want to remind you that despite what may be happening outside, your local fire companies and emergency services providers are here for you 24/7/365!
___________________
Shopping at Amazon?
Please use Smile.Amazon.com and choose Paoli Fire Company as the organization you support! Your Amazon experience will be identical, but Amazon will donate to us each time you shop. Thank you for supporting your local fire company!
___________________
Recent News
Paoli Fire Co. expands ambulance services
Critically ill patients are now getting the advanced medical care they need significantly faster thanks to Paoli Fire Company's newly enhanced ambulance services.
Paoli Fire Company is now a state-certified Advanced Life Support (ALS) provider....
Read the story on the Daily Local News Website

A Second Calling: Pastor and priest fight fires together at Paoli Fire Company
_______________________________________________________
_______________________________________________________
2019 Newsletter & Annual Appeal

2018 Newsletter

Paoli Fire Company is so proud of our Chief!
The Paoli Business and Professional Association named Chief Andrea R. Testa as its 2019 Citizen of the Year during its annual banquet. In addition to the award, Chief Testa received citations from State Sen. Andrew Dinniman and State Rep. Melissa Shusterman.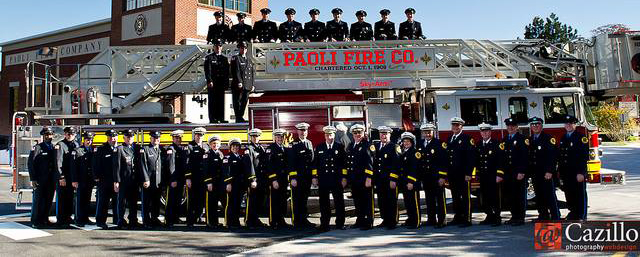 Your regular Amazon purchases can help Paoli Fire! Purchase through our Amazon Smile link, and Amazon sends us part of the proceeds.
smile.amazon.com/ch/23-0940540



Paoli Fire Company Is hiring Part-Time Firefighter/EMT
Click HERE for more information
Paoli Fire Company Speakers Bureau
Looking for a speaker for your next event? Book Paoli Fire Company. Your audience will learn about the types of calls we make, the training we undergo, and the effort it takes to keep this organization running strong.
Call Leza Raffel at 215-884-6499.